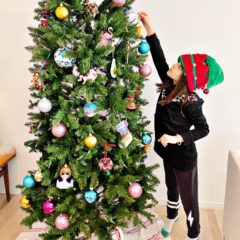 Whatever holiday you celebrate and whoever you are shopping for, you are guaranteed to find a great gift idea in this crazy extensive guide!
Read More

This is an excerpt from Doug Moe's hilarious new book "Man vs. Child: One Dad''s Guide to the Weirdness of Parenting."
Read More

Recently, a baby went viral for being the spitting image of Ed Sheeran. This caused me to dig up my old baby celebrity lookalike photos and show them to Pam and Allie…who didn't see the resemblance AT ALL.
Read More

My niece might look innocent but my sister currently has bruises on her upper arms from her exercising her new chompers. And my nephew Jack once gnawed through his wooden crib!
Read More

In honor of Harlow's birthday, I'm giving out cake smash awards. What's a cake smash? Babies going to town on their first birthday cakes while their parents wonder how they're gonna clean up the mess.
Read More

Kids seem to go from rolling over to crawling to scaling the walls in a blink of an eye. As a result, every parent has a moment when they find their child somewhere they least expected.
Read More

Newborns are small, sleepy, immobile and highly portable. Here are 10 ways to take advantage of the newborn phase plus a huge giveaway from Diapers.com and Pampers.
Read More

What could be better than a brand new brother or sister? These 25 kids can think of a lot of things.
Read More

Parents do a TON of laundry. Besides professional mud wrestlers and the people who clean up elephant crap at the circus, I'm willing to bet parents do more laundry than anyone else on earth.
Read More

When the baby comes along, not only do you get to learn fun, brand new words like "meconium" and "lochia," you get to relearn words you thought you already knew.
Read More

"It's Like They Know Us" is a brilliant new site that mocks moms in stock photos to let real moms know it's okay not to be perfect.
Read More

For every parent who can't find the space to sleep in their own bed at night, I've got some daytime solutions for you.
Read More

From a toddler kicking mom in the head to a baby who takes up half the bed, check out the 20 finalists in the "Get Out of My Bed, Please" photo contest…
Read More

Photo Contest: Serta Mattress with Adjustable Foundation ($5000) Shortly after Mazzy transitioned from her crib to her toddler bed, she had an ...
Read More

Epic heads of baby hair continue to pour in. I didn't think I could get any better entries than last week, but I was wrong.
Read More