It's here! The gift guide to end all gift guides!!! We worked super hard to come up with unique ideas for every kind of kid and adult we know!
Read More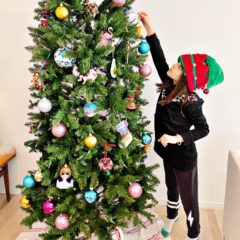 Whatever holiday you celebrate and whoever you are shopping for, you are guaranteed to find a great gift idea in this crazy extensive guide!
Read More

If you don't know MoMA Design Store, it is every chic, savvy New Yorkers' go to shop for memorable gifts for all ages, across all different categories and price points.
Read More

I love getting Valentine's Day gifts for my kids because, unlike the more major holidays, there are no expectations.
Read More

The 2021 Mommy Shorts Holiday Gift Guide is here! I've got gift ideas for everyone you know, including 18 new categories for big kids, like comic book fans, wizards in training, the anime obsessed, and tweens discovering a new aesthetic.
Read More

Cricut is amazing when it comes to giving gifts, because now that I can customize pretty much anything, it was a no-brainer to make a personalized hoodie for Mike.
Read More

If it's too late to share this guide with someone who might get you a Mother's Day gift, I suggest getting something for yourself!
Read More

When Cricut reached out to me to make a project, the first thing I thought of was my dog. Yep, I'm about to to make some pet fashion for Frankie.
Read More

Homemade Valentines never fail, but if you are thinking about making a bit more of a to-do on Valentine's Day this year, I've got some great gift ideas!
Read More

I know Hanukkah is over but I was proud of my gift-giving skills this year and needed to show off. You know when you receive a gift and think— wow, this person really GETS me. I got to give that to my girls.
Read More

Many small businesses and local shops are struggling right now, so I'd like to take the opportunity to highlight a few of my favorites to shop for the holidays.
Read More

May we all have the big baking energy of a 8yo who makes a giant doughnut cake for her own birthday, during a pandemic, when she can't even invite friends over to help her eat it.
Read More

I separated the kid categories by age and interest, added a bunch of new categories for adults, and the first time ever, included tweens, teenagers and grandparents!
Read More

I always have a few baking projects up my sleeve for the holidays, but my favorite is most definitely gingerbread houses. This is because decorating is where I really shine.
Read More

We got another dog! Well, not really. Meet Squeakee. He's part dog, part balloon.
Read More