My dad and I have always lived close to each other, but throughout most of my adult life, we've had a tough time coordinating our schedules.
Read More

It had been more than two months since I had seen my mom's face in person, and I have to admit, the sight of her (even in a mask from a distance) made me choke up a bit.
Read More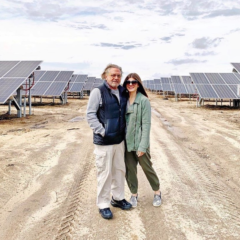 Today is my dad's 75th birthday. Since the lockdown started, my dad has been emailing me long diatribes about the environment, begging me to edit and post them. Here you go, Dad.
Read More

As per usual, when it comes to holidays, Harlow is ALL IN. I was going to skip Easter this year, since it's not really our holiday, but Harlow had other plans.
Read More

Our first night of Passover felt extra special this year. Watching my family come up with resourceful ways to uphold our traditions even when we couldn't all celebrate in person was a beautiful thing.
Read More

"It only took a week to define our inner circle, to finally meet our neighbor across the street, to have a real conversation with our spouse. It only took a week to realize all this extra time is actually a gift…"
Read More

For Thanksgiving, we now have a tradition of two very different evenings. "Adult Thanksgiving" at Mike's family's house on Thursday night and "Kid Thanksgiving" at Grammy's house on Friday.
Read More

From tablecloths embroidered with the signatures of past dinner guests to mashed peas for relatives who are no longer alive, here are some unique and wonderful Thanksgiving traditions shared by my readers.
Read More

When you've got plagues and unleavened crackers to work with, how do you make Passover fun for your kids? My cousin Elyssa, who is both a rabbi and a mom to a 3yo daughter, has some ideas.
Read More

Sibling relationships teach us how to share, resolve conflict, play cooperatively and develop emotions such as empathy. Plus, as a parent, there is no greater joy than watching your kids play nicely together.
Read More

This post is really for my non-Jewish readers anyway, since every year, I get a lot of questions from people asking me to explain what our Hanukkah traditions mean.
Read More

Earlier this year, we threw a bake sale to raise money to help fund pediatric cancer research. To keep that momentum going, we're sharing a new cookie recipe each month.
Read More

When I think back on my childhood and the moments I remember with my mom, I actually have a fondness for the days I stayed home sick.
Read More

We want are kids to learn to be thankful for what they have, while also opening their eyes to the struggles other people in their community might be facing and the many ways they can give back.
Read More

These books may contain characters we think of as "scary," but each story will surprise your family with valuable lessons about creativity, friendship, and empathy.
Read More