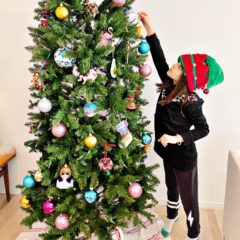 Whatever holiday you celebrate and whoever you are shopping for, you are guaranteed to find a great gift idea in this crazy extensive guide!
Read More

I am glad that Meghan and Harry got out. Sometimes changing an institution is not worth sacrificing yourself.
Read More

Some of these costumes will only make sense in 2020. LET'S HOPE.
Read More

I am notoriously bad at corn mazes. Last year, it took us almost three hours to get out and I legit panicked. We ran out of water, my phone almost died and it was getting dark out!
Read More

Mazzy has a history of dressing up as badass women for Halloween. Harlow, on the other hand, has been dressing up as the world's biggest style icons since before she could walk.
Read More

"I am tired. Tired of the noise on the internet. Tired of getting mad every time I look at my phone. And tired of the constant pull toward a tiny device that is doing the thing it was built to do— suck my attention."
Read More

I'm in New York City, where COVID cases are currently low, so I've been hoping that means we are in a better place to send our kids back to school. Our school is optimistic, but will that ultimately matter?
Read More

The Holderness family put out a hysterical (and painfully accurate) video that sums up what all parents are going through right now.
Read More

Liz Faria talks about her decision to take her kids to their local playground after it reopened, what new rules have been put in place and how it felt to be there.
Read More

Hopefully, this list will make you feel better about your own lack of structure and give you some great ideas!
Read More

Yardwork Dad wants to escape the house and uses the removal of supposedly disruptive tree branches as an excuse to get some alone time. 
Read More

The rules inside the house have relaxed a lot, but that's because the rules outside the house are way, way stricter.
Read More

Is your husband's chewing driving you crazy? Will your kids NOT STOP TALKING??? Please, feel free to unload.
Read More

It had been more than two months since I had seen my mom's face in person, and I have to admit, the sight of her (even in a mask from a distance) made me choke up a bit.
Read More

My son is only three, and doesn't know what a pandemic is, so I haven't been that concerned about his emotional adjustment. But today, he cried over everything.
Read More