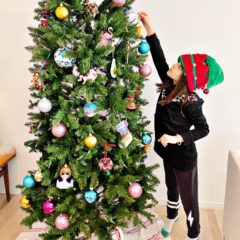 Whatever holiday you celebrate and whoever you are shopping for, you are guaranteed to find a great gift idea in this crazy extensive guide!
Read More

It was about a year and a half ago. And I never wrote about it because I felt so awful and embarrassed. But with a little distance, it feels more like a parental rite of passage. Everyone has at least one story.
Read More

If your kids wouldn't smile to commemorate their first day of school, don't worry. You are definitely not alone.
Read More

It's 9pm. Do you know where your child is? I do. She's up complaining about one of numerous things that is wrong with her current bedtime situation.
Read More

This past weekend Harlow let know her very firm opinions on the definition of a "play date". It is not a movie. It is not ice skating. And it is definitely NOT lunch.
Read More

Here's a list of new habits for Harlow to focus on in the new year. Will she stick to them? Let's just say, she's got just as good a shot as you do with that detox you're planning.
Read More

Watch this spot-on video of what it would sound like if moms told jokes as badly as their kids. Except this joke still makes more sense than the last one I heard from my 5yo.
Read More

We might think we've raised our children to uphold our values, but in reality, we've created little monsters who would rather raise hell at a waterpark than lie under a beach umbrella reading a book.
Read More

Hiding doesn't seem that hard, but little kids suck at it anyway. They think if they can't see you, you can't see them. Ummmm…. that's not how it works, kid.
Read More

Parents do a TON of laundry. Besides professional mud wrestlers and the people who clean up elephant crap at the circus, I'm willing to bet parents do more laundry than anyone else on earth.
Read More

How do reindeer fly? Can we go to the North Pole? Is Santa real? Here's some solid advice as well as a cheat sheet to answer some of Christmas' toughest questions.
Read More

There were so many submissions, we might have to open several chapters. Like the "French Fries are a Vegetable" chapter and the "Cheese is Only Acceptable on Pizza" chapter…
Read More

From a toddler kicking mom in the head to a baby who takes up half the bed, check out the 20 finalists in the "Get Out of My Bed, Please" photo contest…
Read More

Photo Contest: Serta Mattress with Adjustable Foundation ($5000) Shortly after Mazzy transitioned from her crib to her toddler bed, she had an ...
Read More

After I published the many many pics it took to get Mazzy's perfect "first day of kindergarten" photo, I asked fans of my facebook ...
Read More