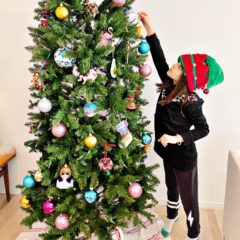 Whatever holiday you celebrate and whoever you are shopping for, you are guaranteed to find a great gift idea in this crazy extensive guide!
Read More

Nobody points out just how unrealistic our post-baby body expectations are quite like Tova Leigh.
Read More

Danielle Guenther isn't taking pregnancy photos of moms-to-be silhouetted in their bedroom windows. She's taking them of women barfing in their purse.
Read More

None of the books ever actually address the one question every pregnant woman truly wants the answer to: Exactly how terrified should I be about labor and delivery?
Read More

Guessing the contents of a baby food jar is good clean fun, but wouldn't it be nice if baby shower games actually prepared the mom-to-be for what lies ahead? Even if she wishes none of it were true.
Read More

What could be better than a brand new brother or sister? These 25 kids can think of a lot of things.
Read More

Toddlers are like pregnant women in lots of ways. Doubtful? Think about the mood swings, the picky eating, the unreasonable demands, the EVERYTHING.
Read More

I like weird names. I don't care if they are made up or better suited to pets or common words for fruits and vegetables…
Read More

"It's Like They Know Us" is a brilliant new site that mocks moms in stock photos to let real moms know it's okay not to be perfect.
Read More

Yesterday, I was on an elevator with my dad when he asked a total stranger when she was due.
Read More

Last week, I introduced an ad campaign I created for healthy mama, a new line of over-the-counter remedies designed specifically for pregnant women.
Read More

I'm not sure if this is for real or not, since I found it on College Humor's instagram account (thanks to my stepbrother for the tip), but ...
Read More

On Monday, I touched on something briefly that I realized should really be the subject of its own post.
Read More

According to reader research, most people name their unborn babies something while in utero.
Read More

Where did I leave off? Oh, that's right. With Mike suggesting a coffee pitstop and me using profanity.
Read More