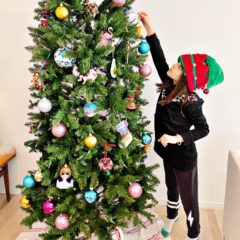 Whatever holiday you celebrate and whoever you are shopping for, you are guaranteed to find a great gift idea in this crazy extensive guide!
Read More

My kids are not acting in this video. This is what they do EVERY TIME WE GO OUT TO EAT.
Read More

No matter how much hype you've heaped on the pretend food coming out of your little chef's play kitchen, I'm guessing you would never recommend your toddler's "restaurant" to others.
Read More

Kids seem to go from rolling over to crawling to scaling the walls in a blink of an eye. As a result, every parent has a moment when they find their child somewhere they least expected.
Read More

Here are 27 kids dressed up for Oscar night— what they were wearing, who styled them and if they pulled off the look. SPOILER ALERT: Toddlers can pull off basically anything.
Read More

The time I was invited to a very fancy party and everybody's children were perfectly behaved except for for mine.
Read More

Insta2yearold likes to give opinions on everything— from breakfast to fashion to social injustice. Here's a small sampling of the very important issues my two-year-old has tackled on Instagram.
Read More

I remember taking my three-year-old to her first fireworks display and fearing I destroyed her eardrums for life. Holidays are HARD.
Read More

All the butchered words depicted are actual mispronunciations that were submitted by moms of actual toddlers. But be forewarned— lots of bad language ahead!
Read More

It's been a month since we transitioned the girls to a shared bunkbed and while I think it was our best option for the room, I'd be lying if I said it hasn't raised a whole new set of bedtime issues.
Read More

Hiding doesn't seem that hard, but little kids suck at it anyway. They think if they can't see you, you can't see them. Ummmm…. that's not how it works, kid.
Read More

Brown spots, strings, peels, etc. Is there any food on earth that gives a toddler more opportunity to complain? THE BANANA STRUGGLE IS REAL.
Read More

While the rest of the family braved the cold, @Insta2yearold spent the majority of our ski trip indoors— pretending she was in Arendelle and waging war against her mittens.
Read More

Parents do a TON of laundry. Besides professional mud wrestlers and the people who clean up elephant crap at the circus, I'm willing to bet parents do more laundry than anyone else on earth.
Read More

Mike and I are taking the kids for a ski trip this weekend, where the weather will be zero degrees, feels like negative eleven. Sounds a little like Arendelle. Brrrrrrrr.
Read More