One thing I've noticed that both my kids do, is that if they are naming the people they love in their life, they always make sure to give a shout-out to themselves at the end. When I smile, Harlow will even look at me and say, "What? It's really important to love yourself!" Honestly, I think Harlow got this notion from Mazzy, and I'm not sure where Mazzy got it from. Maybe I said it once? Maybe a teacher impressed it upon her? Or maybe she got it from a book?
Regardless of whether my kids got it from me or not, I always consider their ability to acknowledge self-love as one of my parenting successes.
This is not to say that my kids never have self-doubt. We deal with with that quite a lot, actually. In fact, a few weeks ago, I shared a post about how to help your child navigate self doubt, which inspired Lauren Bercuson of Happily Ever Elephants put together a list of books all about self-love for this week's Reading Wednesday.
The books below feature kids dealing with naysayers, bullies and their own self doubt. Each story teaches our children how to be comfortable in their own skin and love themselves unconditionally. And hopefully reminds them to keep their own name on the list of people they love.
15 Books that Teach Kids to Love Themselves:
1) I Am Enough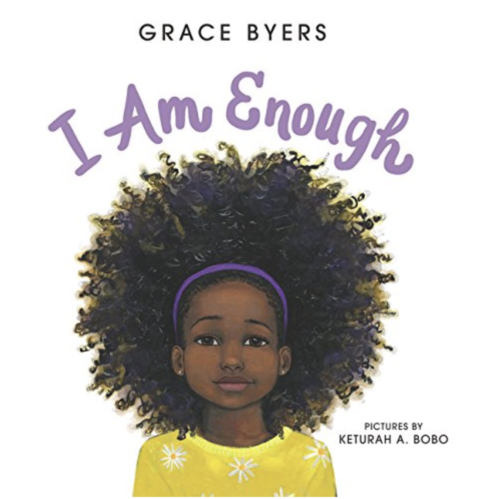 By Grace Byers and illustrated Keturah A. Bobo
This is a stunning poem, a lyrical ode to loving exactly who you are! It's one of those beautiful picture books you can't put down without feeling an instant sense of serenity, a feel good book that empowers all readers to love themselves- and all their unique abilities and attributes- unconditionally.
2) Dear Girl,
By Amy Krouse Rosenthal and Paris Rosenthal and illustrated by Holly Hatam
Oh, what a beautiful love letter this is for all of you with special girls in your life! Whether your kids are toddlers or teens or somewhere in between, this lovely book conveys that girls are strong and valued. Most importantly, it reminds girls to love themselves, know their worth and always trust their gut instincts.
3) What Do You Love About You?
By Karen Lechelt
We are all individuals, and as each and every one of us has our own unique attributes, we all have something to celebrate! This book is a perfect reminder that each of us is special in our own way, and it encourages kids to ask themselves "what do I love about me?!"
By Giles Andreae and illustrated by Guy Parker-Rees
An oldie but goodie, and one we love for the way it reminds us all to embrace each and every one of our attributes- even the most, shall we say, ungraceful! Even if you are different, even if you aren't the best at every skill you undertake, this sweet story reminds us that we are still so very special— and so very great.
5) Zero
By Kathryn Otoshi
When Zero looks at herself, she sees a big round circle wiry a hole in the middle.  She feels valueless, unlike the other numbers, and she just wants to be counted. Though she pushes and pulls herself to try to become like the other numbers, she quickly realizes she can only be Zero— and one day, when standing together with a group of other numbers, Zero realizes just how much value she really has inside. From the author of One, this is another gem!
6) I'm Gonna Like Me: Letting Off a Little Self-Esteem
By Jamie Lee Curtis and illustrated by Laura Cornell
This is such a fun picture book for kids that places them smack in the middle of every day situations- even challenges. It reassures little ones that they are always valued and missteps they make are ok. The illustrations are vibrant, zany and possess so many fabulous details that kids will love poring over as they remind themselves that there is no better thing to celebrate than themselves!
By Mary Hoffman and illustrated by Caroline Binch
This fabulous story sparks the conversation that each and every one of us can achieve our big dreams, despite the jeers of other kids and naysayers. Grace has a flair for dramatics, and when her teacher announces a class production of Peter Pan, she wants to be the lead. Until, that is, another child in her class tells her she can't play the lead because of her black skin. Dejected, Grace tells her mother and grandmother what happened and is met with their reminders that we can be anything we want to be if we simply put our minds to it. A treasure!
By Kevin Henkes
Little Chrysanthemum loves her name— until she begins school and gets made fun of by the other kids because it is so unusual. Chrysanthemum has trouble accepting her uniqueness, until she meets someone else with a similarly unique name who helps her realize that there is beauty in being different from the crowd. This is a wonderful book to discuss bullying and self acceptance!
9) The OK Book
By Amy Krouse Rosenthal and illustrated by Tom Lichtenheld
We simply adore this clever book, a play on words, that shows kids and adults alike that it's ok to simply be "OK." OK is personified in numerous different ways in this story, depicting an ok climber, skipper and and right and left fielder. The story's gentle but powerful message conveys to all readers that there being comfortable with being ok will help you discover excellence, so long as you keep playing and exploring!
10) Beautiful
By Stacy McAnulty and illustrated by Joanne Lew Vriethoff
This book is an ode to the tree-climbing, science-loving, dirt-slinging, sports-playing, creativity-seeking girls who regularly defy expectations and gender norms. Though the text describes perfect girls who move gracefully, understand makeup and have a smart style, the pictures tell a much more subversive, contradictory story. There is no better story to show your STEM-loving, gender-defying girls that they are at their most beautiful when they run from societal limitations, conquer challenges, and play with a mind towards personal empowerment.
11) Tough Guys (Have Feelings Too)
By Keith Negley
For those of you with boys at home, I simply adore the way this book spins the narrative and empowers boys to share their emotions. This book reminds boys, many of whom are conditioned to be "tough," that even the most many and heroic men have big emotions, and it's ok for the world to see them. This book is a great one to spark conversation about feelings, and the way that boys should honor, embrace and even celebrate the myriad of emotions they experience. Real men DO cry, and young boys will feel confident in themselves when they understand that they don't have to hide behind a mask of steel. Love this one!
By Jessica Hische
What a stunning book! In this gorgeously illustrated poem, children are reminded that even if today wasn't their day, tomorrow is a new one, another opportunity to shine! This lovely book is so uplifting, filled with wisdom on every page. Celebrating curiosity, bravery, confidence, strength, and more, this is a tender and inspirational story reminding each of us that with every new day comes a new opportunity to strive for our dreams!
13) Rock What Ya Got
By Samantha Berger and illustrated by Kerascoet
This is the story of an artist who picks up a piece of paper and draws a little girl. The girl has a face, a body, two arms and legs, and a mane of wild black hair. The artist sighs deeply though, because her girl is not quite right. Yet something surprising happens every time the artist attempts to erase her creation: her character, Viva, grabs hold of the artist's pencil and tries to stop her. Why? Because Viva likes who she is, and she wants the artist to let her rock what she's got. Through lively illustrations, snappy rhyme and a jubilant tone, Viva ensures that she will be celebrated, not erased.
14) Giraffe Problems
By Jory John and illustrated by Lane Smith
We love this hilarious new book that celebrates our distinguishing, unique characteristics and celebrates self acceptance! Giraffe is miserably self conscious about something- if you guessed his neck, you are right! It's so long, and no other animal has a neck like his. He's tried hiding it and disguising it but it's no use. Luckily, another animal comes along to help him realize all the awesome things he can do with a long neck— and how unbelievably great he looks in a bow tie. This one is so much fun!
15) Spork
By Kyo Maclear and illustrated by Isabelle Arsenault
Spork is the product of two loving parents- one spoon and one fork. But as a combination of the two, he sticks out in the cutlery drawer! He's either too round, or too pointy, and he can't figure out quite where he belongs. But then a baby arrives at the table, and it's this small child who paves the way for Spork's self-actualization and acceptance, reminding us that no matter who we are or what we look like, we all have a place at the table.
————————–
Lauren Bercuson shares children's literature reviews and other bookish fun on Instagram @happily.ever.elephants, on Facebook, on Twitter @KidLitLauren and on her blog Happily Ever Elephants.