Remember when we went to LA back over Christmas break? I finally had time to recap the trip! My apologies to everyone who was asking me to write about it sooner. The hardest thing about travel blogging is finding time to actually sit down and write the posts.
On Christmas Day, we took advantage of empty airports and flew to LA for a quick four-day trip. Mike and I have both been to LA many times over the years (for work and for fun), but it was the first time for Mazzy and Harlow. It was a pretty spontaneous decision, so we didn't have much planned in advance. We used frequent flier miles for the flights and Starwoods points for the hotel. I asked for recommendations on Instagram on my way there and then ended up spending a large majority of the time taking your advice.
It's the best way to travel!
We stayed at the Le Meridian Delfina in Santa Monica, which is a pretty standard hotel. No crazy bells and whistles but it's situated nicely and has a beautiful view of the water, even though it's not on the beach. There's a pool which was nothing special to look at (by LA standards where pool expectations are pretty high) but the kids were happy and it served our purposes just fine.
We landed in the evening and went straight to the hotel to go to bed, so for all intents and purposes, December 26th will count as day 1.
This was our most touristy day. After breakfast at the hotel, we drove straight to the Hollywood Walk of Fame and the Chinese Theater in our rental car. You most definitely need a rental car if you are staying in LA. (Every time I go to LA, I think, "WHY DON'T WE LIVE HERE????" but after a few days spent in the car sitting in traffic, I'm always happy to come home to New York.)
The Walk of Fame was amusing, namely because my kids have no idea who any of the actors and actresses are. I ended up explaining people like Scarlett Johansson as "the porcupine from Sing" and Morgan Freeman as "Vitruvius from the Lego Movie."
Thank god for cartoon characters because my kids knew all of those.
The only real live people that Mazzy and Harlow recognized unprompted were Dwayne Johnson (Maui from Moana) and Ed O'Niell (the grandpa from Modern Family), which is a pretty incredible thing. If you had told me ten years ago that those would be the two movie stars my five and eight-year-old daughters know by name, I never would have believed you.
The one other star with major significance for my family is Tony Danza, otherwise known as Mike's man crush. Mike has unironic love for the man and as long as I've know him, this has been a never-ending source of comedy for all our friends.
I don't know much about Janet Gaynor, but I do know that she had the exact same hand-size as Mazzy.
We also stopped at the Wax Museum entrance for the sole purpose of taking a fake pic of Mazzy and Harlow in front of the Hollywood sign, which was a good thing, because our next stop was hiking to the actual Hollywood sign and we couldn't even get close.
We parked at the Griffith Observatory, a planetarium situated high up on Mount Hollywood (you might remember it from La La Land), which is a great starting point for many hikes in the area.
We quickly realized there is no way we were going to be able to hike all the way to the sign with little kids, but we got as far as we could— a little lookout point with a pretty good view.
Someone told us after the fact that you can actually get a lot closer for a better photo opp if you just drive to the Lake Hollywood Dog Park. We'll try that next time.
After our hike, we drove to the Los Angeles County Museum of Arts, more commonly referred to as LACMA, which has a beautiful installation outside called Urban Light.
Family travel is not without its challenges, but there are rare moments when what the kids want to do and what the grown-ups want to do align. The Urban Light installation at LACMA was one of those moments. Mazzy and Harlow could have stayed there for hours, running circles around the lamposts and each other.
Or at least the time it took for us to get a table at Ray & Stark's, which is a pretty sweet outdoor dining spot right outside the museum.
After lunch, we walked over to the La Brea Tar Pits, which in addition to being an excavation site with fossils from the Ice Age, also has some pretty awesome hills for rolling. Come for the dinosaur bones, stay for the tumbling, as they say.
We ended the night at the LA Zoo for the Holiday Lights display, something I believe is only there over the holidays.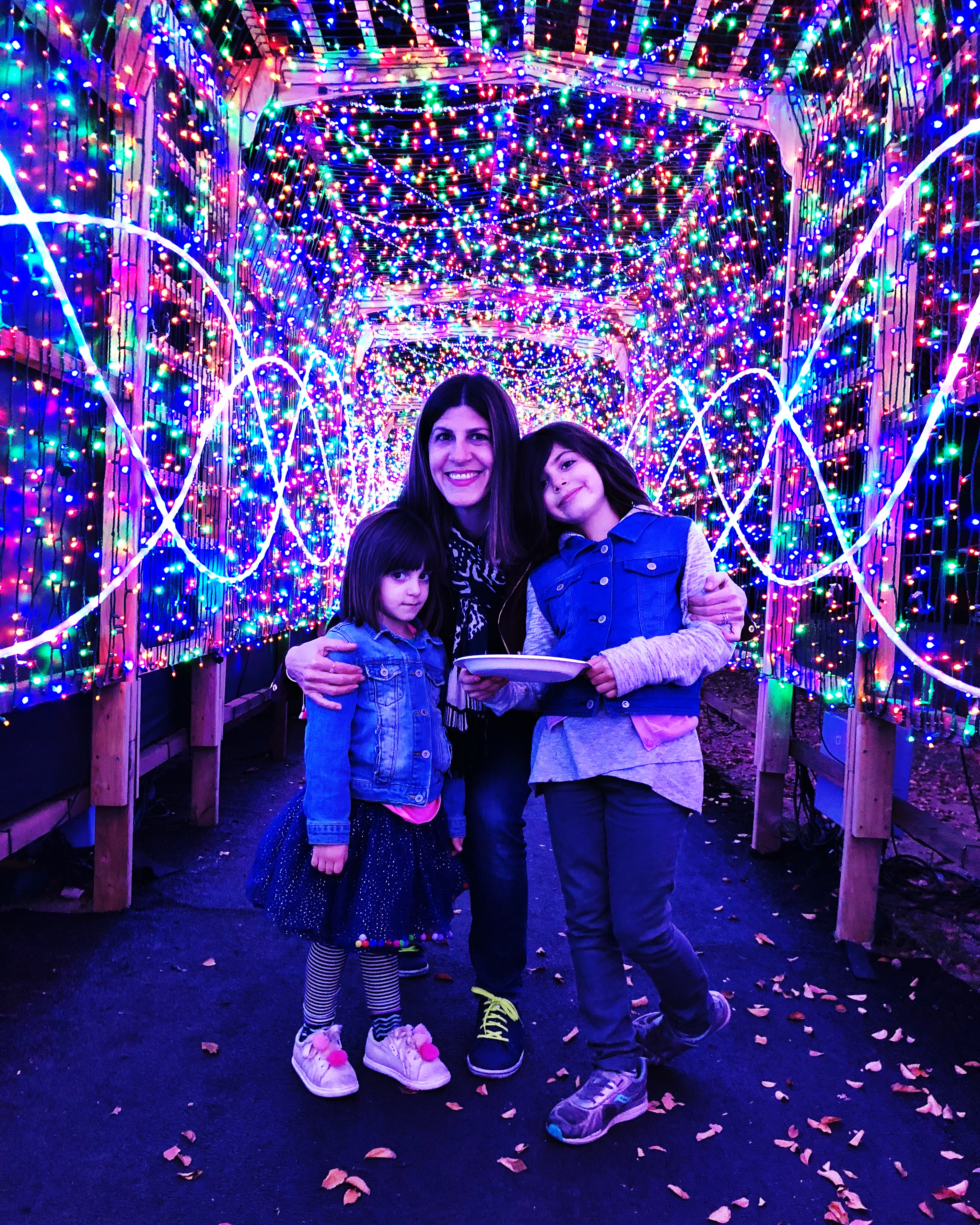 But if you are there over Christmas, come early right when the park opens so you can see all the installations before the crowds. They had a laser light show in a fountain, a tunnel of Christmas lights and most of the indoor areas (like the reptiles) open for viewing.
We went for breakfast at M Street Kitchen, which serves special Kids' Menu pancakes in a cafeteria plate. Mazzy and Harlow gave it their stamp of approval. Then we walked over to Santa Monica beach, which is the best place to experience picture perfect LA weather.
We spent the morning climbing and playing on the rings, balance beams, super long swings and jungle gym equipment that Santa Monica beach is famous for.
Again, Mazzy and Harlow could have spent the entire day here. But we cut it short, because once the kids saw the ferris wheel on Santa Monica Pier, that's where they wanted to head next.
California is known for it's theme parks, but we didn't tell the girls we were close to Disneyland because we didn't want to brave the Christmas crowds. We briefly considered going to Universal, but then it seemed like most of the rides would be too big for them. And they haven't gotten into Harry Potter yet so I'd rather wait until that part of the park is more meaningful. The rides at Santa Monica Pier did the job just fine. My kids are still little enough that a Ferris wheel, a roller coaster and some kiddie rides feel like something special. Mike, in particular, is a big fan of a low key amusement park.
And nothing beats the view of the beach from the top of the ferris wheel.
Mazzy and Harlow loved it, right up until they realized just how high it got.
We spent the rest of the afternoon back at the hotel pool, which is something I now try to schedule as close to the beginning of the trip as possible. It doesn't matter whether we are in LA or Disney World or a magical land full of unicorns, my girls are happiest when they're swimming in the hotel pool.
Then we headed back over to Venice Beach for dinner along the boardwalk and saw the most incredible sunset.
Although, I think maybe all the sunsets in LA look equally incredible.
I was meeting friends in Venice for brunch, so we decided to get there early, which allowed us time to wander around the Venice Canals.
They are lined with sidewalks, foot bridges and colorful residential houses along the canals, which all happened to be decorated for Christmas.
Mazzy told me whe wanted to live in one and I told her that they were probably way more expensive than they looked! FYI, I would like to live in one too.
Rose Cafe in Venice is an awesome brunch spot that has great food and plenty of seating in its covered garden area.
Next, we drove to Downtown La for a trip up to the top of OUE SkySpace, at the top of LA's tallest skyscraper.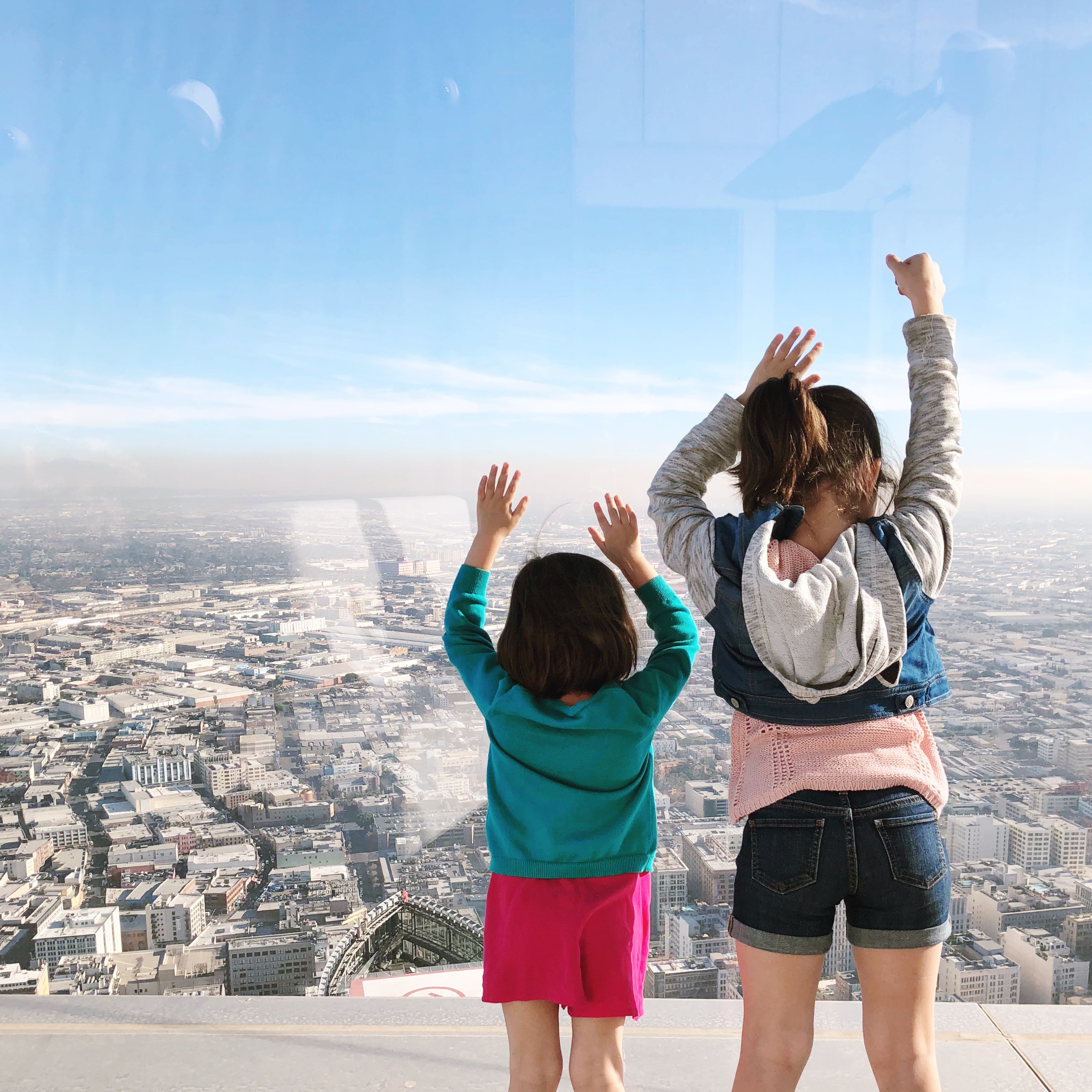 The main attraction of SkySpace is the skyslide which is a glass bottom slide about 1,000 feet above the city. It's a short slide with a long line, but worth it for the novelty.
I thought Harlow was going to go down on my lap, but at the last second, she decided to brave it on her own. I think she is becoming a daredevil just like Mazzy!
The other selling point of Skyspace is the beautiful pair of Collette Miller wings on glass, so it looks like you are flying above the city. Perfect for Instagram, even though the wings were a tad tall for Harlow.
But pay no attention to the beautiful real life LA backdrop because Mazzy and Harlow would way rather stand in front of the fake LA backdrop they found in the selfie machine inside.
After we'd had our fill of the view, we walked over to The Last Bookstore, which was about 15 minutes away. If you are a book lover, you DO NOT want to miss this place. It's like Barnes and Noble meets Alice in Wonderland.
Some special features are the book windows:
The rainbow book wall:
And the book tunnel:
Dinner that night was somewhere along Ocean Avenue. Food was good but we went more for convenience and I cannot remember the name. When you travel with kids, sometimes you have to forego the trendy places you've been researching and just go to a place that's close and serves chicken fingers.
On our last day, we drove over to the Getty Center, a massive modern museum spread out over several buildings, on a beautiful piece of land with a great view and landscaped grounds.
Inside are countless works of art and themed exhibitions.
Outside are sculptures and gardens and walkways that are almost more impressive than the art inside.
After looking at art all morning, Mazzy and Harlow spotted a stone in the wall that looked like a frame. "Take a picture of us here!!!" they shouted.
They really are perfect models when they are the ones calling the shots.
We could have spent several more hours at the Getty Center, but unfortunately, we were flying home that afternoon.
Peace out, LA.
Note: You might think my kids suddenly look like teenagers flashing peace signs, but Harlow is not flashing a peace sign at all. She is flashing the number 2. I know this because she is flashing a number 1 with her other hand. So old yet still so so young.
Let me know if you have any questions in the comments! To follow my family's travels in real time, follow @mommyshorts on Instagram. We are currently in Northern California visiting San Jose, Santa Cruz, Monterey and Big Sur.
If you want to see this whole trip in action, click here to watch our LA travel vlog!