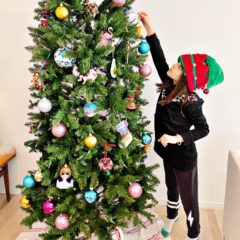 Whatever holiday you celebrate and whoever you are shopping for, you are guaranteed to find a great gift idea in this crazy extensive guide!
Read More

My kids are not acting in this video. This is what they do EVERY TIME WE GO OUT TO EAT.
Read More

It's the big reveal you've been waiting for! Check out how The Land of Nod redesigned Mazzy and Harlow's bedroom into the perfect space for two growing girls.
Read More

When I originally designed our second bedroom, it was to become a nursery for my newborn baby girl. It wasn't meant for a growing girl. Let alone two.
Read More

Parents do a TON of laundry. Besides professional mud wrestlers and the people who clean up elephant crap at the circus, I'm willing to bet parents do more laundry than anyone else on earth.
Read More

Three easy peasy Valentine's Day crafts to keep your kids entertained while you share a mid-day cocktail with your mom friend. The bottle cap lockets were the big hit of the day!
Read More

We held a small party for Harlow's 2nd birthday that looked extra fabulous thanks to my friend Little Miss Party's new Birthday Party in a Box.
Read More

When Mazzy draws something, I tend to leave it out on the kitchen counter for a few days so I can oooh and aaah over it and then, when I am certain ...
Read More

Mazzy likes to eat bananas whole, with it peeled about halfway down before it is handed to her.
Read More

Can you trick your kids into thinking "Put Away the Toys" is their new favorite game? Can you get them excited about keeping the kitchen clean and washing their own clothes? Today I'm working with Method to find ways to "clean happy" with your kids.
Read More

The two main ways to keep your kids healthy is to make sure 1) they get lots of exercise and 2) they drink lots of water.
Read More

Two weeks ago, I talked about Mazzy's budding artistic abilities and the possibility that I might be raising a toddler Picasso.
Read More

Mazzy is not a very good eater. We try. Really we do.
Read More

Ever find yourself picking a Dora the Explorer sticker off your hard wood floors for the better part of an hour, only to discover there's a ...
Read More

If party success is determined by all participants making it out alive, then Mazzy's 2nd birthday was a RAGING SUCCESS.
Read More