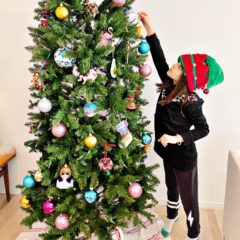 Whatever holiday you celebrate and whoever you are shopping for, you are guaranteed to find a great gift idea in this crazy extensive guide!
Read More

Since it's Awards Season, and I have only seen one adult movie this year, I decided to put together a ceremony for the movies I actually did see— the animated ones.
Read More

If you've seen our Project Play Date series, you know two things: 1) None of the crafts or snacks we make are that hard to pull off. 2) There is always alcohol involved.
Read More

Typically, Mazzy reacts to the suggestion she take a shower instead of a bath like I've asked to trap her in a cage with a bear. But this summer, I was determined to make it happen.
Read More

Janie and Jack dressed Mazzy in their new Coral Carousel collection and asked me to take her and a friend out for a Parisian inspired play date in NYC. Sure….. pull my leg, why don't you.
Read More

When I told Mazzy to pick some Seedling projects, I expected tutu creation and tiara design. But she surprised me and picked everything from a soap making experiment to an adventurer kit.
Read More

It's the big reveal you've been waiting for! Check out how The Land of Nod redesigned Mazzy and Harlow's bedroom into the perfect space for two growing girls.
Read More

When I originally designed our second bedroom, it was to become a nursery for my newborn baby girl. It wasn't meant for a growing girl. Let alone two.
Read More

Parents do a TON of laundry. Besides professional mud wrestlers and the people who clean up elephant crap at the circus, I'm willing to bet parents do more laundry than anyone else on earth.
Read More

Can we make a play date theme around a holiday that involves wasted college kids showing off their boobs for beads? WATCH US TRY!
Read More

What started as me taking photos of pink things to show my daughter, has turned into a game of "I Spy" between the two of us. We've really been playing all along.
Read More

Three easy peasy Valentine's Day crafts to keep your kids entertained while you share a mid-day cocktail with your mom friend. The bottle cap lockets were the big hit of the day!
Read More

No 5th birthday party would be complete without Elsa and Anna's heads on paper plates and a club remix of "Let It Go" playing on a loop.
Read More

Mazzy, Harlow and I had our first experience with Kiwi Crate— a subscription service that delivers all the supplies you need to inspire 2-3 projects per crate.
Read More

Here are five creative after school snacks that won't make your kids say, "What else do you have?" Plus a chance to win $250 of Mighty Nest lunch gear.
Read More