I am an expert in shared bedrooms. I've got two. One in our city apartment where we use a bunkbed (full bed on bottom, twin on top) to separate the kids, along with side-by-side desk spaces on the opposite of the room. You can read about that whole set-up and see more pics here.
The other room is in our summer house where I had the brilliant idea of putting both beds in an L-shape with their heads meeting in the corner, which looks awesome when the beds are made.
Unfortunately, I've come to realize, this set-up makes them crawl all over each other at night until one or both of them ends up in tears. Or if one of them is trying to fall asleep and the other still wants to play, they'll do things like casually lay their arm on the other person's head for annoyance's sake. That doesn't end well either. And by not ending well, I mean, someone ends up screaming, "MOM!!!!!!!"
Lesson learned.
There are lots of different ways creative parents have figured out how to keep their kids in one shared room, and no better place than Pinterest to ogle the possibilities.
If you are looking for creative ways to configure a shared bedroom, here are 36 ways you can do it:
By keeping it matchy matchy
Source: Lay Baby Lay
Source: lovesarahschneider
By Switching up the Color
Source: Pequeocio
By stacking the kids vertically
Source: The Rugged Rooster
By stacking the kids perpendicularly
Source: Petit and Small
By creating privacy with a Curtain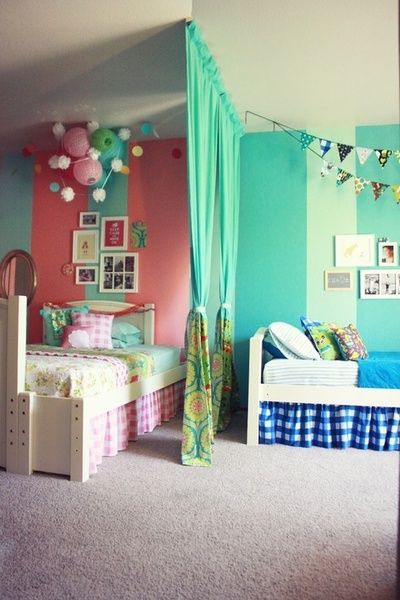 Source: Woo Home
By drawing a line in the Carpet
Source: KidsOMania
By assigning superhero alter egos
Source: Classy Clutter
By building multi-level platforms
Source: Blog Lovin
By giving Nautical Bed Assignments
Source: Brit&Co
By installing a Pocket Door
Source: The Telegraph
By hanging canopies for privacy
Source: Nous Decor
By pulling out a trundle bed
Source: PopSugar
By putting two Mattresses on one platform
Source: Decordemon
By building an L-shaped loft bed
Source: Custom Made
By putting the beds back-to-back
Source: Coastal Living
By building a bed with a wall down the middle
Source: Stavenger Aftenblad
By separating with a staircase
Source: Home Bunch
By giving each bed a Name
Source: Pottery Barn Kids
By designating a Sports Team preference
Source: Picky Stitch
By creating separate workspaces
Source: Mommo Design
By switching up the Pattern
Source: Woo Home
By switching up the Theme
Source: Architecture and Design
By creating two separate nooks
Source: Style Me Pretty
By creating one Really Long Bed
Source: Style Carrot
By using side-by-side bunkbeds
Source: HGTV
By using Catty Cornered Bunkbeds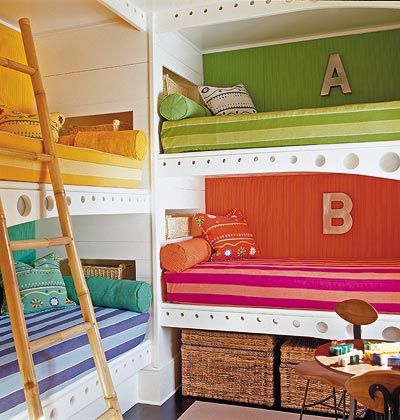 Source: Modern Parents Messy Kids
Source: Design Dazzle
Source: Brit&Co
Source: KidsOMania
By a shelf and mismatched wallpaper
Source: Coco Cozy
Source: Cool Home
Source: This Modern Life
Source: Organize and Decorate
Whether any of the children living in these spaces ever settle down to actually go to bed, I have no idea. I take on no responsibility if you try one out and it doesn't work for you!
For more inspiration, follow Mommy Shorts on Pinterest.