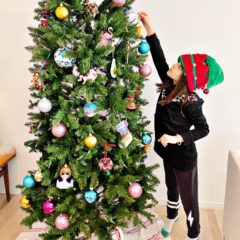 Whatever holiday you celebrate and whoever you are shopping for, you are guaranteed to find a great gift idea in this crazy extensive guide!
Read More

I planned Harlow's party right after my book launch, while I was on tour, so I needed to find a place that was completely hands-off where we could just show up.
Read More

Happy birthday, my sweet baby girl! I hope throughout your whole life, you get ALL THE CAKE.
Read More

After the success of our blueberry galette, I was excited to tell Harlow about our next cooking challenge. "Harlow, we 're making blueberry sushi!" Her initial response? "BLECH."
Read More

If you've seen our Project Play Date series, you know two things: 1) None of the crafts or snacks we make are that hard to pull off. 2) There is always alcohol involved.
Read More

Harlow's 3rd birthday party had lots of high and lows, especially since it started with her falling asleep on the car ride over.
Read More

Today, Harlow and I are testing out Koala Crate, a craft subscription service for preschoolers and giving away a 6 month subscription! You can tell from Harlow's face, she takes her reviews VERY SERIOUSLY.
Read More

Parents do a TON of laundry. Besides professional mud wrestlers and the people who clean up elephant crap at the circus, I'm willing to bet parents do more laundry than anyone else on earth.
Read More

Can we make a play date theme around a holiday that involves wasted college kids showing off their boobs for beads? WATCH US TRY!
Read More

Mazzy, Harlow and I had our first experience with Kiwi Crate— a subscription service that delivers all the supplies you need to inspire 2-3 projects per crate.
Read More

Little Miss Party's 10 tips for a fun-filled Halloween themed play date. Some are over the top and some are totally doable. Pick and choose your level of crazy!
Read More

Mazzy likes to eat bananas whole, with it peeled about halfway down before it is handed to her.
Read More

Parents.com sent me an email a few weeks ago asking what I was doing for Prince George's birthday.
Read More

Last week, Method Home challenged me to "clean happy" with my kids and I devised a plan to trick my daughter into helping me around the house. Today, I put those methods to the test…
Read More

Can you trick your kids into thinking "Put Away the Toys" is their new favorite game? Can you get them excited about keeping the kitchen clean and washing their own clothes? Today I'm working with Method to find ways to "clean happy" with your kids.
Read More